I've been resisting the temptation to steal a couple of sheep. Viking sheep. One "black" and one "white" (they're actually  dirty beige and dark brown).
It's a matter of copyright. I respect copyright; I understand that, for creative people to go on creating, they need to get some financial returns from their work. Food banks and McJobs are not conducive to creativity, and making art in the time and energy that's left after the day job works better on paper than in reality.
However.
For my current project I need images of a couple of Viking-era sheep. I haven't found an image that's in the public domain – and it's SO easy to either grab them from the web or scan them out of a book I borrowed from the library.
But there are those pesky copyright issues – and my conscience.
I could go to iStockphoto or any of the myriad photo libraries out there on the web and buy an image.
I could – and sometimes I do. So far this month I've bought an image of a pot of peonies and an image of a stave church. But I can't afford to buy every damn image I need.
So I compromise. I grab/scan an image and use it as a model and paint an image in Photoshop.  It's fun,  it's teaching me digital painting and I tend to lose track of time as I play with the possibilities. I do borrow textures and use small details, but the image that I finally use is definitely my own.
Like my '50s Rock'n'Roll teenager whose face is modeled on the Holbein miniature of Anne of Cleves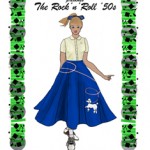 (Henry VIIIs  fourth wife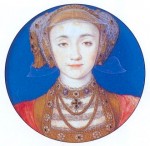 who survived and happily lived  out her life in England after their amicable divorce).